BUILDING UPDATE: LOOKING FORWARD
Fall 2022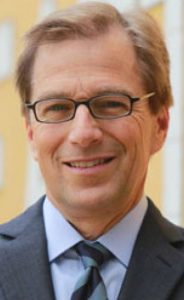 by David Brashear, Museum Director
The forthcoming renovation and expansion of the Muscarelle Museum of Art is fast approaching, and much of our excitement around the project stems from the transformational impact our new facility will have on the cultural landscape of the university and the region. The design for the building, named the Martha Wren Briggs Center for the Visual Arts in honor of our lead donor, is exceptional, simultaneously embracing the architectural language of our existing building while also making new, modern gestures. The design team at Pelli Clark & Partners has been led throughout the effort by William E. Butler, who has been dedicated to finding the right fit on all aspects of our project and making sure that everything about our expanded Museum meets our functional and aesthetic needs.
There are many reasons to be excited. The building will be an asset to both the new and expanded arts quarter on campus and to the architectural collection of the university as a whole. Increasingly, forward-looking architecture is becoming part of the William & Mary fabric, with the beautiful designs for the theater arts expansion and the new music building announcing a broader architectural palette along Jamestown Road. Those projects join other modern inflections, including the recently completed Wellness Center and Sadler Center expansion. And perhaps nothing has been as much of a work of art as Hearth: Memorial to the Enslaved.
The beautiful packaging of the new Martha Wren Briggs Center for the Visual Arts is fitting and well-matched to an equally stunning interior design. Our new entrance, a two-story atrium joining the new wing to the existing building, will be one of the most modern interior spaces on campus. A freestanding, grand staircase will lead visitors to the upper level, where we will have nearly four times the gallery space on that floor as we currently have. The main level will include state-of-the-art seminar rooms, as well as additional gallery space. And the lower level will bring together staff offices and working spaces, enabling the Museum team to operate more effectively than ever and support collaboration with student interns in more robust and meaningful ways for years to come.
With construction slated to begin in January 2023, the Museum will conclude operations in our current building at the end of December. The satellite Muscarelle will reopen in late January in a new temporary space. We are currently evaluating several options for our temporary location, and will announce our destination as soon as the site selection is finalized. We have a host of very exciting exhibitions planned for our time in our temporary location and look forward to seeing all of our Museum friends there in early 2023.
Learn more about our plans for expansion and how your support can expand our ability to to educate, inspire and engage the community through the arts. And make sure to visit us this fall to view our Museum Expansion Gallery.