LETTER
FROM THE
DIRECTOR
FALL 2020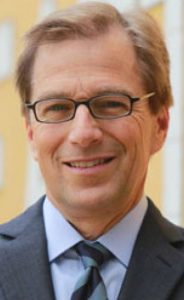 Dear Friends of the Muscarelle,
After nearly eighteen months as Interim Director, it was an honor to be chosen in late June as the fifth director of the Muscarelle Museum of Art. I am excited to both shed the word "Interim" from my title, and to continue the important work that we have been doing since my arrival.
As many of you know, I have long been involved with and committed to the success of the Muscarelle. I have had the privilege to watch it reach its lofty place among college and university art museums, and I look forward to bringing us to our highest aspirations. As a museum situated within the framework of a university, we have the dual opportunity to integrate with and serve a vibrant academic community, while also delivering a program of cultural enrichment to the broader region. In my time at the Muscarelle, I have come to understand and deeply appreciate the value of that intersection which we occupy.
It is a difficult time for all of us, and the Museum has had to adjust to the new order. Although we have been closed since March to visitation, we have continued to work on a variety of projects. Most important, we have endeavored to make our website as engaging as possible. We have posted online exhibitions, special exhibition preview videos, and a wide range of art instruction videos.
Our award-winning online exhibition, Rising: The American Indian Movement and the Third Space of Sovereignty, was the result of a pivot that needed to be made last semester. Native American Art Curator Danielle Moretti-Langholtz, who was leading a class with a Muscarelle exhibition as the intended final project, decided to move the exhibition to a digital format as students were sent home and the class had to be finished electronically. This exhibition is powerful and more timely than we could have ever imagined. If you have not yet done so, I hope you will take the time to fully experience it.
Our Director of Engagement, Steve Prince, has been incredibly creative throughout the spring and summer as he developed a sequence of art instruction videos. His work has been appreciated by patrons and friends far and wide, and has engaged people across all age groups. Many school groups have used his videos as a way to extend their teaching into students' homes. I strongly encourage you to explore your inner artist and indulge in some of Steve's lessons.
And our team has worked diligently to deliver content every Thursday through our weekly emails. We have very much enjoyed featuring a work of art from our collection each week, opening a window into the vast treasure that we hold at the Muscarelle. We will continue to be as creative and innovative as we can be as we chart a path through the public health emergency.
While the current environment is challenging, I can assure you that our future is bright. We have received the green light from the university administration to move forward on our long awaited expansion project. We are currently working with our design architects, Pelli Clarke Pelli, to create an exciting and powerful plan for a substantial new wing for the Muscarelle. We have not yet reached our financial target for this project, but with the generosity of donors small and large, I'm confident that we can rally the remaining $3 million necessary to meet our fundraising goal. We expect to break ground for the new wing in the third quarter of 2021.
I want to close by committing to you – our campus family, community, and museum members – that we are in energetic pursuit of a better tomorrow for everyone. Diversity, equity, and inclusion have been a central part of my approach at the Museum since I began my tenure in January 2019. We have worked to broaden the representation in our collection, and have added many important works by artists of color and women over the past eighteen months. We will continue on that path. We have also highlighted important issues and their intersections with the world of art. We are proud of our groundbreaking 1619 / 2019 exhibition last fall, and our Rising online exhibition this spring. We have done an immense amount of outreach with our art education programs, and will continue to strive to make a meaningful impact on people's lives.
All are welcome at the Muscarelle – everybody. As we work toward a limited reopening, we hope you will schedule a visit and also encourage others to explore the cultural window that we are dedicated to opening.
I wish you the very best, and a season of safety and good health.
Sincerely,
David M. Brashear,