Russell Means
November 10, 1939 – October 22, 2012 | Tribal Affiliation: Oglala Sioux | Other names: Wanbli Ohitika (Brave Eagle)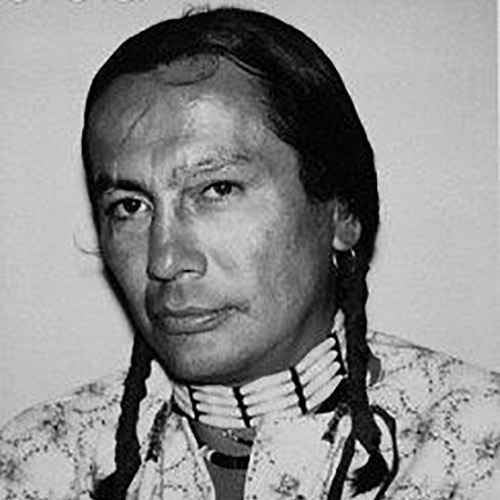 This photograph was used in by Andy Warhol for his silkscreen, The American Indian (Russell Means), 1976.
"Before AIM, Indians were dispirited, defeated, and culturally dissolving. People were ashamed to be Indian. You didn't see the young people wearing braids or chokers or ribbon shirts in those days. Hell, I didn't wear 'em. People didn't Sun Dance, they didn't Sweat, they were losing their languages. Then there was that spark at Alcatraz, and we took off. Man, we took a ride across this country. We put Indians and Indian rights smack dab in the middle of the public consciousness for the first time since the so-called Indian wars."
Means, an Oglala Sioux, was born on the reservation at Pine Ridge in 1939. He was a major figure in the American Indian Movement. On Thanksgiving Day in 1970, Means spearheaded an AIM protest on the Mayflower Replica in Plymouth, Massachusetts. This action drew nation-wide attention to the issues of colonization experienced by indigenous people.
In another act of defiance, Means held an AIM prayer vigil held on Mount Rushmore to protest against the designation of the site as a national park. Means and his AIM members and supporters declared the national park was in violation of the 1868 Treaty of Fort Laramie which recognized the Sioux's historical claims to the Black Hills. In 1972, Means also led people, AIM members and a coalition of tribal supporters, to Washington D.C. in the Trail of Broken Treaties caravan. However, while in D.C. government officials refused to meet with the protesters. In response, the protesters raided the Bureau of Indian Affairs, claiming the action was in protest to the U.S. Government's numerous broken treaties over the centuries.
With the U.S. government's eventual response and support for a policy of self-determination for Native people, AIM's activism was replaced by pan-tribal and tribal actions in support of sovereignty. In his later years, Russell Means found work in Hollywood, appearing in over 30 films including the "Last of the Mohicans" and "Natural Born Killers." Means was a charismatic figure who succeeded in garnering the attention of the press and he worked throughout his life to promote activism on behalf of Native communities. Means died in 2012 on the Pine Ridge Reservation; he will be remembered as an activist, politician, writer and major figure in the AIM Movement.