September 10, 2016 through January 8, 2017    Due to the inclement weather, the Muscarelle will be closed this weekend. We regret that January 6 will be the last day to come and see "Building the Brafferton" exhibition.  However, stay tuned for a forthcoming online version and exhibition catalogue.

Constructed in 1723, the Brafferton Indian School remains a strong visual symbol on the campus of the College of William & Mary. This is the first exhibition to examine the history of the Brafferton within the wider trans-Atlantic networks of trade, politics of church and state, and Great Britain's colonial enterprise in North America.  New research on the Brafferton connects Indian students from the Pamunkey, Cherokee, Nottoway, and Wyandot tribes, to wider narratives of our shared past.  Historical paintings, engravings, archival documents, and contemporary Native American Art, are assembled to explore the founding, funding, and legacy of one of the nation's oldest and most esteemed institutions of higher learning.
Curated by Danielle Moretti-Langholtz, Ph.D., Department of Anthropology and the Muscarelle Museum of Art, and Buck Woodard, Ph.D., American Indian Initiative, Division of Historical Research and Interpretation, Colonial Williamsburg Foundation.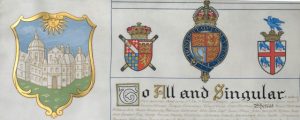 Hark Upon a History: The 1929 Journey to England
As a companion exhibition to Building the Brafferton: The Founding, Funding and Legacy of America's Indian School, Hark Upon a History is dedicated to William & Mary President Julian Alvin Carroll Chandler's journey to explore and shed light on the English heritage of the College. In the spring of 1929, President Chandler and school architect, Charles Morrison Robinson, set sail for England. The pair were on a mission to investigate the history of the College and the origins of the Brafferton, which up until that point lay forgotten. This exhibition marks the first time that materials pertaining to their journey are on view. Curated by Sydney Stewart, '16 and Michaela Wright, '16, Hark upon a History  will be on display in the Herman Graphic Arts Study Room.