LETTER
FROM THE
DIRECTOR
FALL/WINTER 2022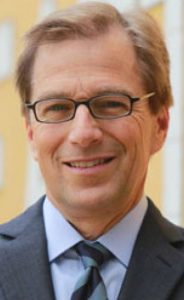 Dear Friends of the Muscarelle,
As we prepare for our upcoming expansion project and our move to a temporary space during the construction process, I am excited about spending one last semester in our current building, celebrating the visual arts with all of you!
This fall, we are presenting Faculty Show 15, the fifteenth time since the Museum opened in 1983 that we have featured the amazing work of the studio art faculty here at William & Mary. The department has a long history of distinguished and accomplished artist-teachers, and the current faculty is full of world-class talents. The faculty shows we host are always unique from the perspective that we have the rare opportunity to showcase a variety of media in one exhibition–paintings, drawings, prints, sculpture, photography, ceramics, furniture, and even architecture.
Our upper level galleries will be closed for the fall semester as the Museum team uses the space to prepare our collection to be sent to offsite storage. We will, however, host several short-term viewings in our upper galleries this fall that feature some of our recent acquisitions. Please watch for details regarding these special opportunities.
Steve Prince, our Director of Engagement, will also conduct a sequence of workshops that will allow you to exercise your own creative skills. Be sure to check Muscarelle.org and watch our weekly emails for more information!
This fall, our Muscarelle Explorations series will provide an in-depth examination of the international art market. Our programming will include lectures by Joseph French, a collector and former dealer in photography, Najee Dorsey, the co-founder and CEO of Black Art in America, Louis Salerno, founder and CEO of Questroyal Fine Art in New York, and Samantha Koslow, Director of Business Development at Christie's auction house in New York. We will also present a film on the art market and discuss the book The Value of Art: Money, Power, Beauty by Michael Findlay. We look forward to sharing these programs with you as we learn, together, what drives the art market.
We are very happy that so many of you joined us this past spring for our exhibition Edgar Degas: The Private Impressionist and our Explorations programming built around that exhibition. In addition to Degas, we were proud to host the Department of Art History's curatorial class and their exhibition of works by the artist Leonard Baskin. And we were very pleased that a few of you journeyed with us for an investigation of art in Bermuda on our group trip there in early June, hosted by Muscarelle Trustee Jane Spurling and her husband Rick.
Thanks to all of you who were instrumental in making the 11th annual Wine & Run for the Roses auction in May our best ever! Special thanks go out to our generous donors and to all who attended and bid on the wonderful lots. It was a day of celebration and fun.
Finally, we continue to make progress in our fundraising for our new construction project, having raised $32 million toward our $44 million goal. Please contact me if you are interested in learning more about the expansion project, scheduled to begin this January.
Thank you for being a part of the Muscarelle Museum of Art and for your ongoing and generous support. We are proud to serve as the visual arts nexus for William & Mary and the greater Williamsburg and regional community, and we look forward to seeing you in the Museum this fall!
Sincerely,