LETTER
FROM THE
DIRECTOR
SPRING/SUMMER 2023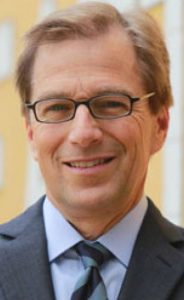 Dear Friends of the Muscarelle,
2023 will be an amazing year at the Muscarelle Museum of Art! Originally opened in 1983, this year marks the 40th anniversary of our founding. We will have special events throughout the year that celebrate the legacy of the Muscarelle on campus and as a regional venue for cultural enrichment, and we look forward to having you join us!
Museums serve as a crossroad of our civilization. The professionals who program the museum operation through exhibitions, lectures, art instruction, and other immersive activities could not exist without a community that values what is presented. Meeting the community's cultural appetite is the challenge for museum professionals, and at the Muscarelle Museum of Art our goal is to interpret the visual arts, past and present, for our audiences both inside and outside the university.  
We are assisted in our efforts through the engagement of our community, working regularly with student interns and student volunteers, members of William & Mary's faculty and staff, dedicated regional volunteers that operate a robust docent program, and local members of the greater Williamsburg community that support our operations and special events. We could not operate without these partnerships, and in fact, the collaborative efforts we undertake with our expanded team actually make us better as an institution, enabling a broadening of the discourse in our cultural town square.
As we reflect back over the past 40 years, it is clear that the Museum's success is firmly rooted in the partnerships we have formed in our community.  Countless members of William & Mary's faculty have used the Muscarelle as a laboratory for learning, and the Museum is acknowledged as a resource that helps to make William & Mary the unique institution that it is.
Art instruction for all age groups has been an ongoing priority at the Muscarelle, and we have worked with local school systems, retirement communities, churches, and prisons to help individuals discover themselves through the act of creation. Through our membership program, we have generated funding to support the wide range of activities at the Muscarelle, and substantial contributions from a variety of local and alumni philanthropists have been transformational for the Museum.
A fitting way to acknowledge the Museum's impact over the last four decades is our collective efforts to expand it.  With our expansion project commencing in March, we look forward to creating a home for the visual arts that will serve us for the next 40 years and allow us to shine a brighter light on the visual arts in Williamsburg!
Thank you for your support, and for making the Muscarelle part of your own cultural journey.
Sincerely,