LETTER
FROM THE
DIRECTOR
SPRING 2022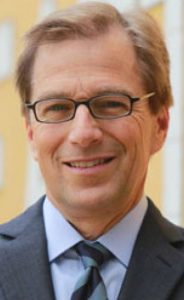 Dear Friends of the Muscarelle,
With each day that passes, the Muscarelle Museum of Art seems to gain momentum on many, many fronts. I'm thrilled that so many of you have come along for the ride. The future is bright for the Museum, and very exciting.
This spring, the Muscarelle will be focusing on the work of the great French artist, Edgar Degas. In addition to our exhibition, Edgar Degas: The Private Impressionist – Works on Paper by the Artist and His Circle, we have built our spring 2022 Muscarelle Explorations series and our Selected Topics in Architecture series around Degas and the exhibition. It will be a wonderful opportunity to learn more about the artist's story, while also having the chance to view over 50 of his works.
Our programming around the Degas exhibition will be multifaceted. Robert Flynn Johnson, the collector whose works we are presenting, will spend a week with us and give several talks, and the scholars Dr. Margaret MacNamidhe from the School of the Art Institute of Chicago and Dr. Michelle Foa from Tulane University will also join us for presentations.
In addition to the lectures, we will screen a film on Degas as part of the Global Film Festival and read the book Picasso Looks at Degas as the next iteration in our Muscarelle Reads book club, which William & Mary Professor Charles Palermo and I will moderate. William & Mary's Gallery Players will present a concert to celebrate the musical tastes and passions of Edgar Degas, and Steve Prince, our Director of Engagement, will host three hands-on workshops where he will explore the artistic techniques of Degas. And finally, Columbia University Professor Barry Bergdoll will present a lecture on 19th-century French architecture. We are looking forward to sharing all of these programs with you, with many of them available both in person and online.
In addition to our ongoing programming, we continue to make great progress toward our new and expanded facility. Our architects at Odell and Pelli Clarke & Partners are working diligently to refine our building documents and secure all necessary approvals, with the expectation of breaking ground later this year. We are continuing to build our resource pool, and have raised over $31 million toward our $44 million goal. If you are interested in learning more about the project, please contact me.
It was an honor to host several artists this past fall in various residencies at the Muscarelle. Cara Romero, Diego Romero, and Roberto Jamora made incredible presentations to both Museum audiences and classes around campus, and Roberto Jamora created a limited edition print during his residency that is the first to come from our Muscarelle Editions effort. All proceeds from prints produced by Muscarelle Editions will go towards Museum programming. If you are interested in purchasing a print, visit our website.
Thank you for your ongoing and generous support. The events we present at the Museum are made possible through the partnership of our members, donors, and William & Mary. As you can see, it is a partnership that works!
I look forward to seeing you many times this spring, in our galleries and at our events and special programs.
Sincerely,
David M. Brashear,