LETTER
FROM THE
DIRECTOR
SPRING 2021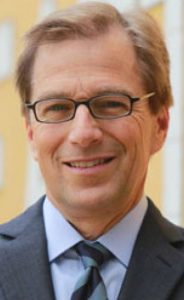 Dear Friends of the Muscarelle,
The past year was difficult, with many challenges. In our collective quest to stay safe and healthy, we have had to change just about everything in our lives. At the Museum, our approach has been to provide as much cultural enrichment and enjoyment to our community as is possible under the circumstances. Until the public health situation improves, we will continue to strive for creative ways to keep you informed and engaged, with as many opportunities for expanding your range of knowledge and talents as is possible.
Since mid-March, the Muscarelle has essentially created an entirely new Museum – one that lives virtually on the web and in communications and content that we deliver electronically to the William & Mary campus, our members, and our local and regional constituencies. Our weekly emails are the best way to stay informed about our robust schedule of programming and learning opportunities. Each Thursday, we deliver important information about upcoming events and programs to all subscribers to our email communications, including shining a spotlight on a work in our collection.
Our virtual offerings have been multidimensional, and will continue to be robust and broad in the coming months and years. Each semester, we take a deep dive into a special topic through our Muscarelle Explorations series– last fall we focused on forgeries in the art market, and hosted events that included lectures by experts, a screening of a film and a discussion with the filmmakers, and a book club that focused on a major art forgery scam in Britain. This spring, our Muscarelle Explorations, entitled Healing By Design, will feature lectures, films, and panel discussions that focus on the role of art and architecture in helping to heal us individually and collectively. As we all struggle to cope with the challenges that our current situation has presented, our Healing By Design programming will help us to keep everything in perspective.
In addition to our Exploration series, I hope you will join us for our 11th spring season of Selected Topics in Architecture, a program which I founded in 2011. As usual, we will present three programs on architecture, with acclaimed guests from home and abroad. We are also planning other virtual exhibitions, lectures, musical performances, and workshops that will both educate and inspire.
I'm very happy to report that the design efforts for our new and expanded Museum have been proceeding very well. We plan to break ground for the new Martha Wren Briggs Center for the Visual Arts later this year, with an expected completion in 2023. The renovation and expansion project will result in a new and improved home for the Muscarelle Museum of Art, and include both a renovation of our existing building and the incorporation of a substantial new wing that will provide additional galleries, a comprehensive center for art education and the study of our collection, a lecture hall, and a variety of important upgrades to staff quarters, collection storage, and general operations. We are striving to reach our fundraising goal, and if you have not yet contributed to the effort, I hope you will attend an information session this spring and learn about ways in which you can make a difference.
We greatly appreciate the support we received in 2020 – it has made an incredible difference in what we have been able to deliver to our Museum friends. We hope you will continue to support the Museum through this public health emergency, and we look forward to being able to welcome you back to the Muscarelle very soon.
I wish you good health in the coming weeks and months.
Sincerely,
David M. Brashear,